The Zion is the Answer for a firmer hybrid rv mattress.
The Zion Hybrid mattress is the little brother to our Yosemite Hybrid. Being a 10″ Hybrid made with a 8″ Caliber Edge Pocket Coil, 1″ HD Transition Foam and topped with our 1″ Graphite PCM Gel. The PCM Gel keeps you cool throughout the night by pulling your body heat away from you. This makes our hybrids topped with this some of the best sleep you can get. All the features above plus being covered by a 10 Year warranty means you dont have much to loose and a lot to gain in a great nights sleep.
Delivering cloud-like comfort at a fraction of the cost, the Zion Hybrid Graphite Gel couples deep contouring comfort and reduced motion transfer with advanced cooling technology for your most elevated sleep experience ever. The Grand Teton Graphite Gel is great for all sleep types and is the perfect balance of comfort and support.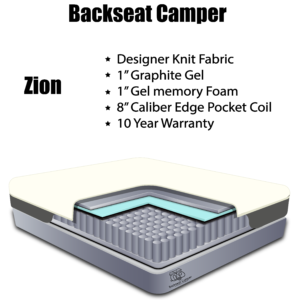 All mattresses are available in standard sizes.
Don't See Your Size?
About Our Mattresses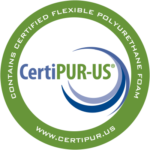 Designer Knit Fabric
 8″ Caliber Edge Pocket Coil
 1″ HD Transition Cool Gel
 1″ Graphite PCM Gel
 Made in USA
The Pocket Coil Count for the Yosemite Hybrid Mattress 
Twin 406
Full 588
Queen 682
King 868
**These are Approximate for Custom Cut and RV mattresses**
RETURN & REFUND POLICY
If there are any issues with your mattress feel free to contact us so we can help you through the return/refund policy.
*Buyer will be responsible for a 10% restocking fee and the cost of shipping to return a mattress
SHIPPING INFO
Free shipping within the continental United States.