The Grand Teton is our middle of the road mattress. Mixing soft and firm perfectly for that medium mattress you have always wanted. The Grand Teton is made with a 6″ High-Density Base, 2″ High-Density Transition foam and topped with our cooling 2″ Graphite PCM Gel. All guaranteed and backed by our 10-year warranty.
Delivering cloud-like comfort at a fraction of the cost, the Grand Teton Graphite Gel couples deep contouring comfort and reduced motion transfer with advanced cooling technology for your most elevated sleep experience ever. The Grand Teton Graphite Gel is great for all sleep types and is the perfect balance of comfort and support.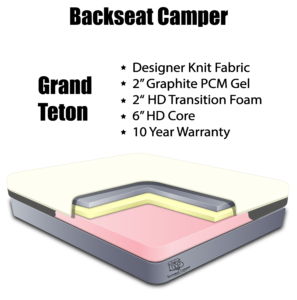 All mattresses are available in standard sizes.
Don't See Your Size?
About Our Mattresses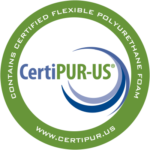 Designer Knit Fabric
2″ Graphite PCM Gel
2″ HD Base Foam
10 Year Warranty
Made in USA
RETURN & REFUND POLICY
If there are any issues with your mattress feel free to contact us so we can help you through the return/refund policy.
*Buyer will be responsible for a 10% restocking fee and the cost of shipping to return a mattress
SHIPPING INFO
Free shipping within the continental United States.